HK 5-720 T planing head grinding machine
Fully automated with automatic variable carriage feed, automatic spacing, continuously variable rotation speed for grinding disc.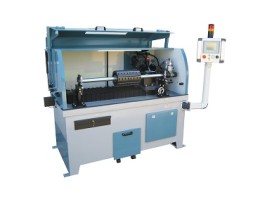 >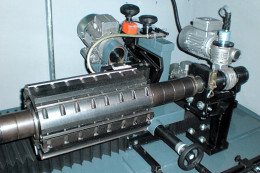 Special features of the HK 5-720 T
Automatic indexing unit, attachable to the grinding shaft either on the right or left, via drive coupling.
Works without indexing disc. Teeth numbers are directly entered into the counter.
Grinding unit is infinitely rotatable via a fine adjustment, to accurately setting back relief angles on the knifes.
Grinding disc rotation speed is individually adjustable for carbide and HSS knife sharpening
Options: knife end stop ruler, hinged, for pre-setting of the planer knife after knife change.
Grinding disc rotation speed is infinitely adjustable from 2000 to 5000 rpm.
Recommended speed for Borazon about 4000 rpm. Borazon wheel #50853491 (optional: diamond #50853492), diameter 125mm, bore
20 mm Coolant tank and coolant pump are integrated into the machine base.
Features
Fully automated machine, with automatic variable carriage feed speed, automatic indexing and terminated switch-off controlled via counter.
Easy relief angle setting by turning the grinding head via a scale, resulting therefore in a correctly set  relief angle.
Automatic regrinding of the planer knife after the grinding procedure, infinitely adjustable.
Additionally, spark- out travels selected with teeth count number.
Maximal runout tolerance of 0.01mm measured on the planing head after a correct grinding procedure.
Machine accessories included in the machine price:
wet grinding unit, sliding ruler, mandrel shaft diameter 50 mm
Mounting flange for grinding wheels
Borazon grinding wheel diameter 125 mm (853491)
Set of keys
Protective hood included.
Technical Details
Planer head diameter:
120 – 340mm
Grinding length:
max. 720mm
Grinding shaft:
50mm
Grinding motor:
1.1 kW
Voltage:
400V, 50Hz
Dimensions:
Length:
1800mm
Width:
1200mm
Height:
1600mm