KH 800 Keyway Punching Unit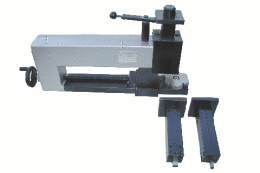 Largest sawblade diameter 800 mm, smallest 150 mm.
6 Punching widths: 8, 10, 12, 15, 20 and 22 mm.
Other keyway widths on application.
The machine is equipped with a handwheel with scale for the purpose of adjusting the depth of the keyway.
3 Punch guides are supplied, together with three hardened punches measuring 8 x 10 x 80, 10 x 15 x 80 and 20 x 22 x 80, together with
1 Bottom die: 8, 10, 12, 15, 20 and 22 mm, usable on both sides,and 1 Heavy, short-handled hammer, minimum weight 5 kg (to knock out the keyways).
In this connection, it must be stated that the machine is only suitable for mass production with reservations.
As a combination, we can also supply a fixture for resharpening the punches.
Directions for use: After the punch of the correct size has been selected and the depth of the keyway set, the punch guide and punch are brought into position.
The keyways are knocked out with a firm blow of the hammer.
Technical Data:
| | |
| --- | --- |
| Dimensions: | 800 mm length |
| | 120 mm width |
| | 360 mm high |
| Weight: | 40 kg |