SW 2000 Hydraulic Tension Rolling Machine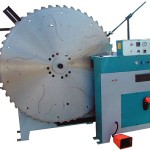 Combination top/side runout and tension testing.
Design features
High strength, welded construction.
Hydraulic pressure with pressure preset function.
The rolling process is controlled by encoder and does not depend on the saw diameter, i.e., after exactly one revolution the machine stops automatically. This prevents under or over rolling.
Stable sawblade mounting assembly with spindle driven gear motor for advancing and reversing movements.
The hydraulik motor shuts off on completion of rolling process, preventing unnecessary heating of the hydraulic fluid.
Rollers do not begin turning until sufficient rolling pressure has built up.
The machine is started by foot operated switch and may be stopped at any time and position.
Technical data
Max. saw blade diameter:
2000 mm
Min. saw blade diameter:
500 mm
Max. diameter of rolling zone
distance, i.e. reach from outer diameter
to the rolling diameter
600 mm
Min. rolling diameter:
260 mm
Rolling speed:
by potentiometer adjustable
Rolling pressure (pre-selectable):
up to 200 bar, approx. 8 to.
Power (rollers):
2,2 kW
Power (hydraulik pump):
2,2 kW
Dimensions:
Width: 900 mm
Depth:   2700 mm
Height:  1300 mm
With tension test divice:
Height:  1800 mm
Weight:
1480 kg