Typ SP 800 P Test Device for Tension, Top and Side Run out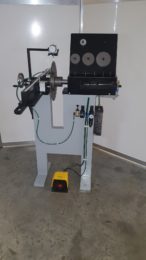 Tension tester with runout and axial runout testing device With pneumatic blade clamping for saws from 150 mm Ø to 800 mm Ø.
How to check tension:
The blade is pressed hollow in the clamped state by 2 opposing pneumatic cylinders.
cylinders, a dial gauge indicates the value.
A universal tester for checking the concentricity, the side base body, finished carbide saw blades.
These devices are usually used by base body manufacturers u. Saw manufacturers.
The annoying tightening of the base body or saw blade is no longer necessary.
The blade is clamped pneumatically by means of a foot pedal.
Ready for compressed air connection
Technical data:
| | |
| --- | --- |
| Pressure required: | 6 bar |
| Air consumption: | minimal |
| Pressure regulation: | from to 6 bar |
| Weight: | approx. 220 kg |
| Dimensions: | 850 mm wide |
| | 840 mm deep |
| | 350 mm deep without clamping test device |